Org Chart
Our Org Chart is designed to give you both a high-level and atomic view of your organization at large.
Designed to be dynamic, your HRIS integration will keep your Org Chart up-to-date and in-the-know at all times. It's the perfect place for new users to get started!
Org Chart Overview
With this feature, you can easily:
View your company or a specific team at-a-glance
Double-click into a specific employee to view their details
Dig into metrics, like Span of Control, DEI, or Headcount Cost
Export your view into an image or PDF file
... and so much more!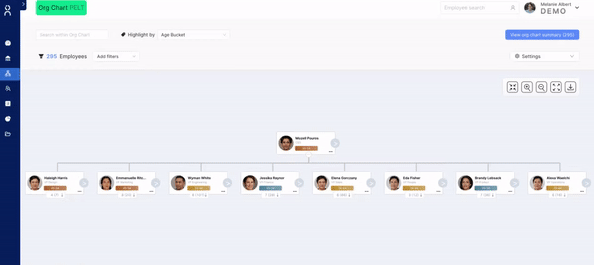 Org Chart Summary
Our goal is to provide data points and insights everywhere in Knoetic–and that includes your Org Chart. View the following data points for your whole organization, or filtered to any specific field value that you're interested in.
In your Summary Stats, you'll get data points for:
The Basics, such as number of employees, average age, and average tenure
Compensation, such as cost of headcount and highest/lowest paid employee
Org Structure, such as the number of managers, non-managers and manager-to-employee ratio
DEI Visualizer, including gender, ethnicity and age
View Direct & Indirect Reports
Click on the arrow beneath any employee card to see their direct reports. You can make your way down from top to bottom of your organization in a few clicks!

Include Future Starts & Open Roles
Plan for the future by viewing what roles you're expecting to hire. Under Settings, toggle "Open Roles" or "Future Starts" to include new cards in your view.
If assigned in your Applicant Tracking System (ATS), these cards will sit beneath the appropriate hiring manager.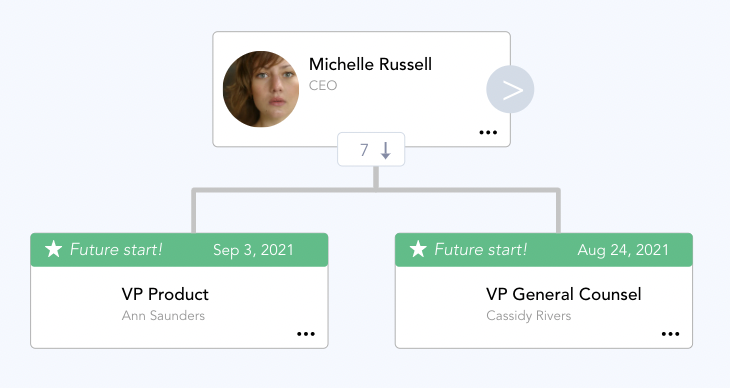 Employee Snapshot
Click on any employee card to get an overview of their employee information. You can even access their full employee profile directly from this tool.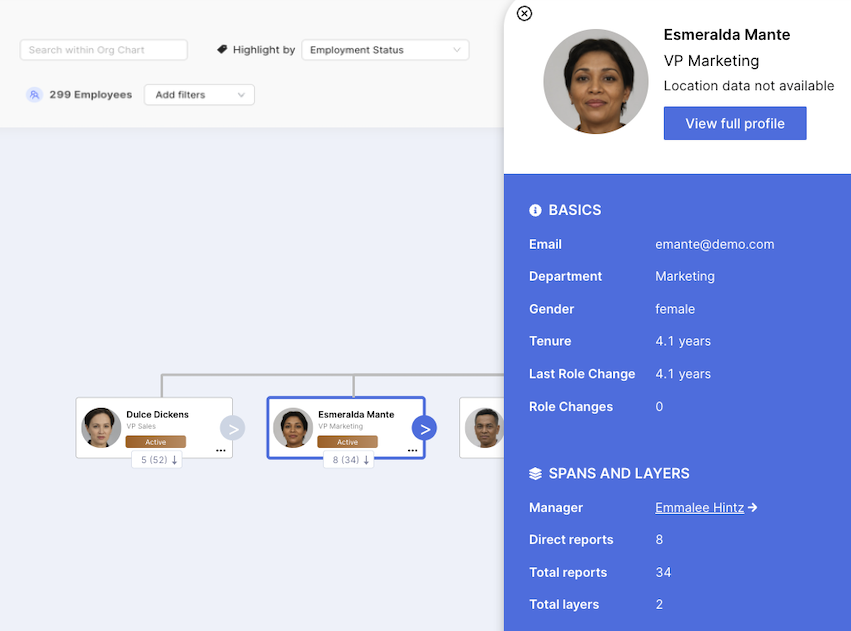 Additional Features
Export Company or Leader-Specific Org Charts
You can export the full chart with the download icon in the navigation bar. You can also download an individual's org chart, which is a great way to show managers who is on their team.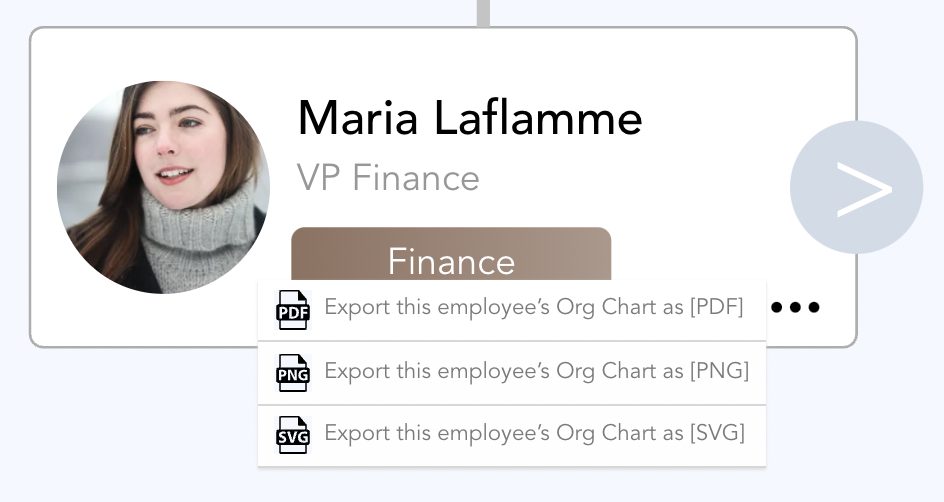 Search Functionality
Need to find a specific person? Use our search bar to find a specific person. We'll even provide a drop-down in case you need help!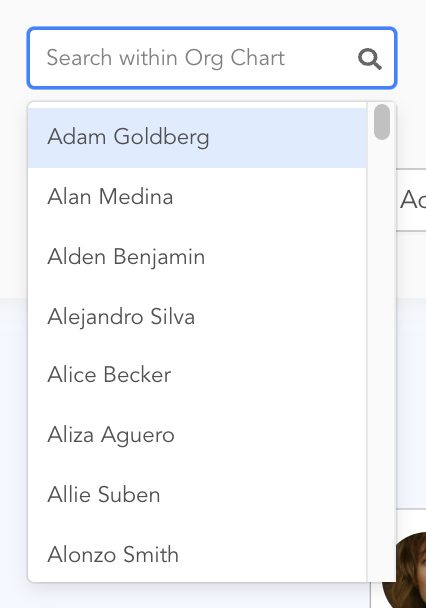 Card Highlights
Select an option from the Highlight By drop-down to change the values and colors on each employee card by a new value.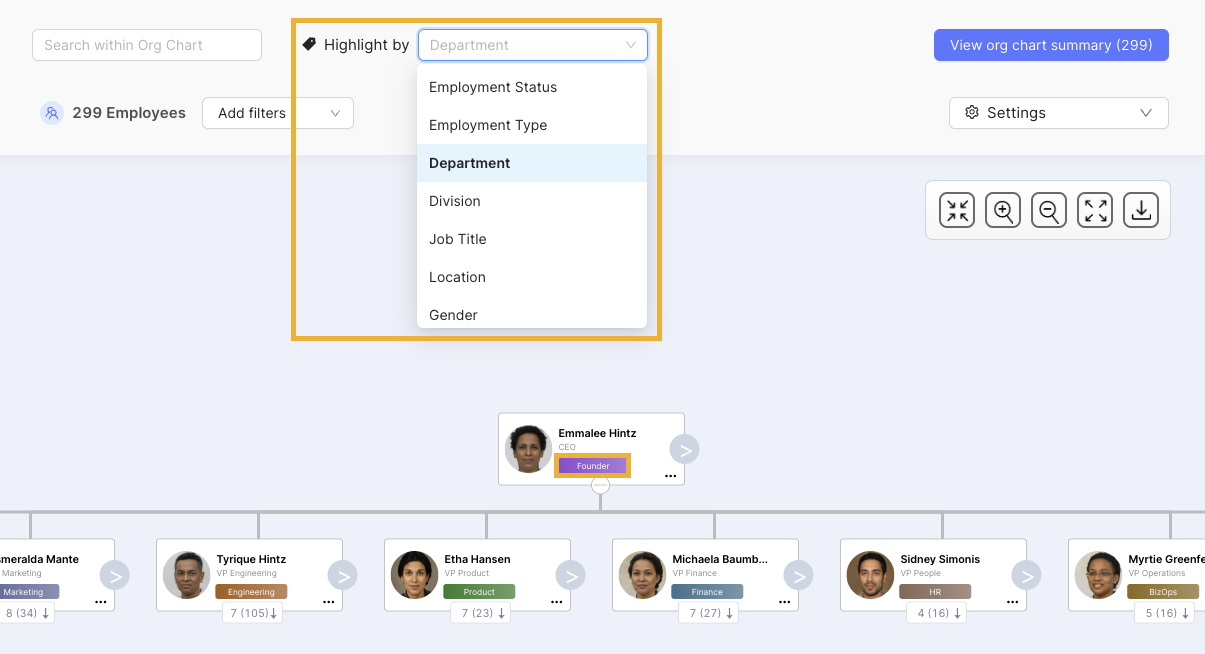 Here's a close-up example of the Org Chart when Highlight By is set to "Department".

Filtering Functionality
Add filters to your org chart to hone in on any field attribute in Knoetic.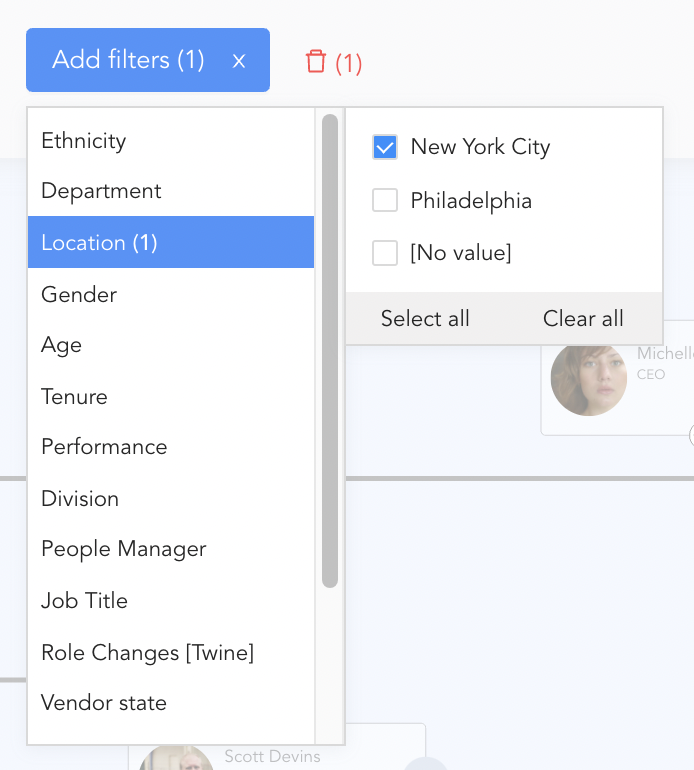 Manage Settings
Change your view settings for a better view of your data and to find what you may need. Setting options include:
Changing the layout to horizontal, vertical or mixed.
Changing the number of vertical layers you can see on your chart.
Showing employee photos, if applicable.
Showing future starts and open roles to help with future planning.
Navigation Tools
Move around your Org Chart with ease with our simple click-and-drag functionality using your mouse or trackpad. You can also use the Zoom In/Out buttons located under the Settings drop-down.
---
---