HRBPs & People Partners
HRBPs & People Partners align teams, employees, and management with broader company business objectives.
They work closely with leaders for specific departments or functions to help them achieve goals related to hiring, terminations, and strategic initiatives.
How they leverage Knoetic:
Use data to influence decisions. Bring data to every conversation to tell the real story to your team and leaders.
Insights at your fingertips for any meeting. Prepping for a meeting or scorecard shouldn't take hours. Pull quick insights, graphs, and lists to start drawing conclusions and topics for discussion in minutes.
Less time data mining & more time analyzing. So long, pivot tables. Instead of compiling data into massive spreadsheets, you can find trends quickly and start answering People-related questions immediately.
Creating two-way conversations with leaders. Through safe report sharing or even giving your leader access to their direct & indirect report data in Knoetic, leaders can join conversations with some idea of what's taking place across their teams.
Exportable graphs, charts, and lists. There's no longer a need to spend hours on visuals. Simply export any image—with your brand colors and a transparent background—to add to presentations.
Happy User Quotes:




Most Loved Features
Our Attrition Analytics tells you who left, when & why, and calculates important stats, like Annualized Attrition, for you.
You're able to layer any data field on top of your reporting to quickly find signals, trends, or go deeper into specific employee records.

Our Explorer Analytics tells the story of where the company or a specific team is today. View any slice you need—for instance, look at performance by tenure!

Our Org Chart gives you (and your leaders) a real-time view of the team today and in the future.
Pro-tip: Toggle on "Open Roles" or "Future Starts" in the Settings drop-down to see where team growth is headed. of reports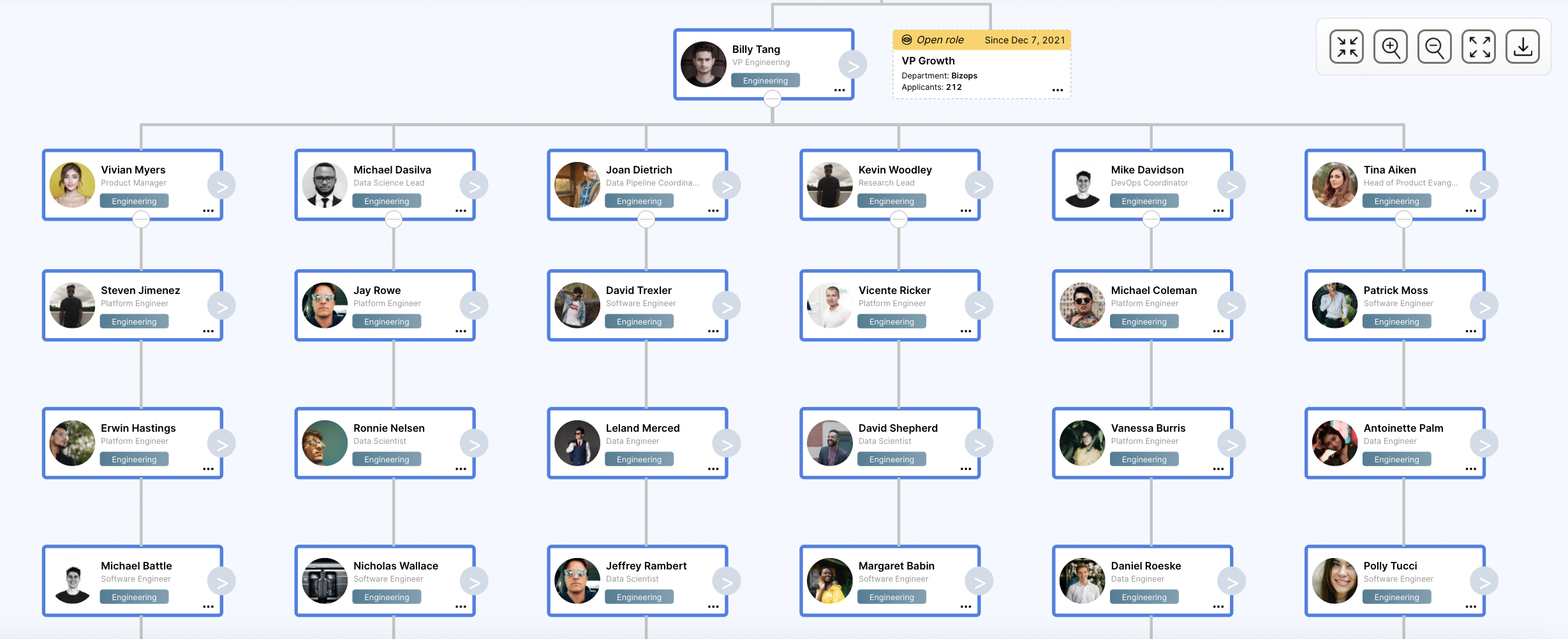 Our Employee Lists make it easy to consolidate different data fields into one place to be exported, shared, or saved for later.

Each Employee Profile tells the story of their time at the company, from recruitment interviews through pay changes & promotions, to when they left & why.
Plus, you can easily access employee contact information or other details from the "Overview" tab.
And there's so much more!
Want to learn how other HRBPs & People partners are leveraging Knoetic? Email success@knoetic.com to reach your CSM who can share all the tips we've learned.
---
---